Cigar Guy Is A Hot Search On Net
By Reema, Gaea News Network
Wednesday, October 6, 2010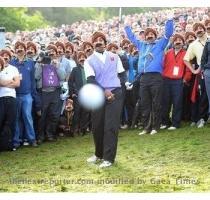 WALES, (GaeaTimes.com)- The fastest popularity stint award goes to the Cigar Guy. This Mysterious person, who was present at the Ryder Cup in Wales on Sunday, was never expected to become an overnight hot search on the Internet. And to many people, he has no reason to be one. However, it all started when a "Daily Mail" photographer took his photo accidentally.
The photo was taken when Tiger Woods, who was playing the match in Wales this Sunday, "Duffed" the ball towards the photographer and the latter panned the camera towards the "Cigar Guy" , as a result of his reflex. The Cigar Guy may be regarded as a very strange character, whose getup does not match with the sophistication of golf. He wears a brown turban with a cigar in his mouth. He looks like the replica of Groucho Marx and Jonny Quest's adopted brother Hadji. That naturally raises the question, who was this man standing right next to Tiger Woods? Was he a friend of the renowned golf player, or was he just another ordinary man who was attending the game? In any case, he cannot be ordinary, as he is now being regarded as the character who gained the fastest popularity stint in the history of entertainment.
As his photo was uploaded on the net, Cigar Guy and his popularity started spreading like wild-fire. Despite several speculations, it could not be concluded who the person is. Many people are under the impression that he is a manipulated product of Photoshop in order to create publicity. A few go a step further, guessing that the real photo underwent a "Mush-up" before it was uploaded on the net, and the character is nothing more than a fiction. However, in spite of all speculations, the funny face of the Cigar Guy is being morphed in almost every possible photo and being uploaded on the net, just to make him all more popular.