Dave Niehaus Passes Away
By Tias, Gaea News Network
Thursday, November 11, 2010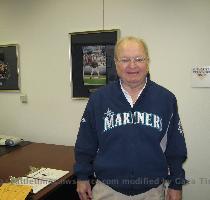 more images
SEATTLE (GaeaTimes.com)- Legendary Seattle Mariners sportscaster Dave Niehaus passed away on Wednesday, November 10. The 75 year old veteran's family confirmed that the cause of death was a heart attack. The Niehaus family has asked for privacy from the media at the difficult time.
With the news of Dave Niehaus death spreading on the web, Seattle Mariners' fans from all over took to the web to express their condolences and also talk about what the voice of the radio veteran meant to them. One fan called for a statue of Dave Niehaus and said that it should be such that when one presses a button one can hear the voice of the legend. Another fan said that he grew up listening to Dave Niehaus and he also wrote about the memories that the named invoked. He said that often he would put the TV on mute and listen to the radio when the game got interesting. many consider Dave Niehaus the voice of the Seattle Mariners and considering that he has been sportscasting since 1977, almost three generations of Seattle Mariners fans have had attachment to the voice at one point in their lives.
Seattle Mariners' President and COO, Chuck Armstrong said that his entire franchise was standing by the family of Dave Niehaus. He also recalled some of the historical moments and said that since he called the first pitch by Diego Segui around 34 years ago, Dave Niehaus has been the voice of the franchise through all the ups and downs that it has faced over the years.