San Francisco Giants Parade: Giants' Remarkable Win in the World Series 2010
By Jayita, Gaea News Network
Tuesday, November 2, 2010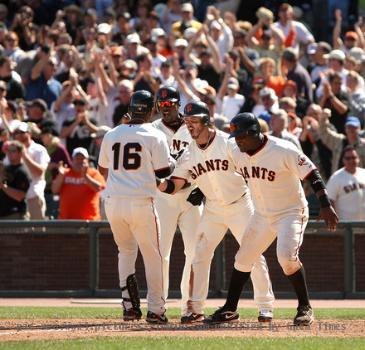 more images
SAN FRANCISCO (GaeaTimes.com) — Giants clinched a remarkable victory after 56 years in the World Series 2010.
San Francisco Giants repeated history after long interval of 56 years. They snatched the World Series title by defeating Rangers for 3-1.
San Francisco City began celebrating the victory of their beloved Giants on Monday night. A huge crowd of 52,045 that gathered at Rangers Ballpark witnessed the Giants' historic victory.
Giants' victory reminds the memories of 1954, when they bagged their first title in World Series, five decades ago.
Renteria and Lincecum played an important role in Giants' victory. With this success he became the star of the Series. He made total hit 412 with two homers and six runs.
Along with the Giants' players and fans, the officials also indulged themselves into the grand celebration.
Giants' Cody Ross was gleaming with joy and said,
I looked up and I saw it clear, and I jumped so high in the air, which I would never do in a regular game.
On the other hand, Rangers were totally devastated as they lost the title of World Series.