Dave Niehaus Remembered
By Tias, Gaea News Network
Friday, November 12, 2010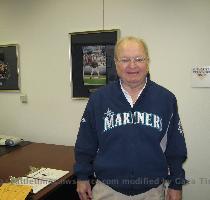 more images
SEATTLE (GaeaTimes.com)- Sportscaster Dave Niehaus passed away on Wednesday due to heart attack. The 75 year old veteran sportscaster was considered the voice of the Seattle Mariners for decades and his death has caused several baseball fans to post their memories with their commentator on the web. Several Seattle Mariners fans posted messages immediately after the news of the death spread on the web. Fan recollected the famous moments in baseball when Dave Niehaus' commentary intensified the experience for them.
One Seattle based blogger said that when he heard the news of Dave Niehaus' death he felt as if a dear friend had passed away. He said that though many have not met him in person, several felt a close association with him. Many fans identified Dave Niehaus as the voice of the Seattle Mariners and several websites have posted a list of their favorite calls by the legendary sportscaster. Having broadcast more than 5000 games during his illustrious career, Dave Niehaus was inducted into the National baseball Hall of Fame in 2008.
One of the bloggers also said that there have been times during crucial matches when he has put the TV on mute to listen to Dave Niehaus' commentary during crucial moments in the game. Seattle Mariners President and COO, Chuck Armstrong offered his condolences to the Niehaus family and said that the entire franchise stood by them at this difficult time. The Niehaus family has asked for privacy from the media regarding the passing away of the veteran sportscaster. One of the most touching blogs posted yesterday on the web showed Dave Niehaus posing with a father-son duo and Seattle Mariners. The son recounted the story of the encounter and said that it was the perfect birthday gift for his octogenarian father to pose with the voice of Seattle Mariners.