San Antonio Rock 'n' Roll Marathon 2010 Faces Slight Delay
By Tias, Gaea News Network
Monday, November 15, 2010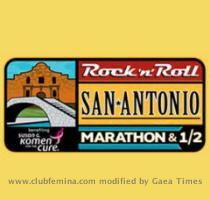 more images
SAN ANTONIO (GaeaTimes.com)- With thousands participating from all over the world, the Rock 'n' Roll San Antonio Marathon was one of the most anticipated marathons in recent months. The mega-event, however, was not without a glitch as many of the runners had to face a delay of about 4 minutes at the start of the race. The organizers of the event said that the delay was due to a unscheduled freight train that crossed the course at the start of the race.
Tracy Sundlun, the rep of the Rock 'n' Roll San Antonio Marathon, said that the disruption did not affect the elite race and also added that the times of all the runners who were affected by the delay will be adjusted accordingly. The organizers explained that the situation was taken in control very quickly and the participants were compensated. Tracy Sundlun explained that the race officials worked with the law enforcement and other emergency services quickly took action by holding the racers and addressing them about the situation. They also delayed the next starting wave till the train passed.
The winner of the Rock 'n' Roll San Antonio Marathon was Edward Tabut with the time 2:17:04. Paul Ngeny and Keith Pierce finished as the first and second runners up respectively. Among the women, one foreigner and two locals dominated the marathon. Everlyne Lagat of Kenya won the marathon with the time 2:42:43. San Antonio locals, Elizabeth Malesich and Emily Loeffler finished as runners up. In spite of the delay none of the runners expressed anger or discontent towards the delay at the start of the marathon.