Laura Vikmanis: Oldest NFL Cheerleader
By Reema, Gaea News Network
Saturday, January 22, 2011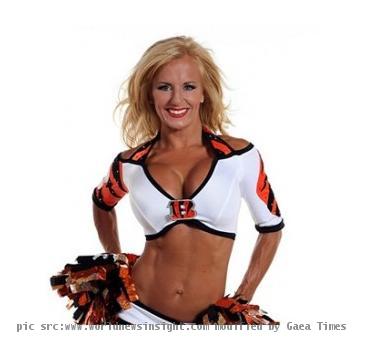 more images
CINCINNATI (GaeaTimes.com)- Laura Vikmanis is 42, but still in the best of her health and spirit that can put any 20 year old to envy. With a great figure and a fit body, she is not only the oldest cheer leader of Cincinnati Bengal, but also NFL Laura Vikmanis said with her good sense of humor that she is older than all the cheer leaders and the players of the team, except ofcourse the coach.
Laura Vikmanis is a registered dietitian. A mother of two, Lila, 14, and Alexa, 12, two years back, she was just like any other women of her age, who was deteriorating her health and shapely figure. However, in order to feel cheered up, she took golf and drum lessons and attended football matches. That is when she saw the cheerleaders and decided that this what would make her professionally satisfied. At the age of 39, she visited the team to get recruited as one of the cheer leaders, but was rejected. However, the rejection further strengthened her determination and she got involved in a more rigorous fitness schedule and clinged on to a better diet chart to materialize her dream in her 40s. However, Laura Vikmanis was initially quite scared before joining the team, as she thought that the rest of the girls, who would be about two decades younger, would be "catty" towards her. However, now she knows that all of them are extremely warm and friendly.
Her colleague, captain Tara Wilson said that it does not seem that she is older than the rest of them. The commitment to fitness and the great self respect that Laura Vikmanis has for herself, makes her a role model for the rest of the cheer leader. Laura Vikmanis however wants to be an inspiration for her children, whom she wants to show that resorting to hard work, can enable the materialization of any dream under any condition.