Forrest Griffin Crumples Rich Franklin
By Madhusmita, Gaea News Network
Sunday, February 6, 2011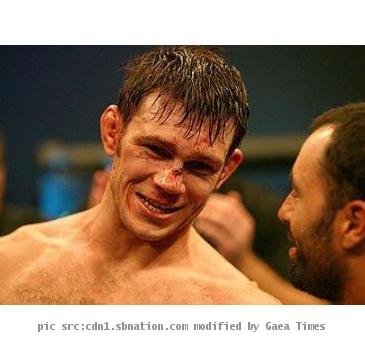 more images
LAS VEGAS (GaeaTimes.com)- It was one of the most anticipated fights of UFC 126 where mixed martial artist Forrest Griffin faced Rich Franklin for the Light Heavyweight bout championship title. Both the fighters left no stones unturned to outshine the other but ultimately, Forrest Griffin won the bout via unanimous decision. Forrest Griffin returned to the fight after a year owing to his shoulder injury. Last night's match turned out to be quite entertaining as the Forrest Griffin crumpled the former middleweight champion of UFC via unanimous decision (29-28, 29-28, 29-28).
Forrest Griffin dominated the ring from the beginning and he controlled his opponent with severe kicks and punches. In the second round, the winner managed to get another takedown by just dragging Rich Franklin from behind while getting his body locked on. However, Rich Franklin managed to fight back and stand up again. In the third round, however, the former middleweight champion of UFC gave Forrest Griffin a tough fight but in the end, he had to surrender himself to the winner. After the match, when a reputed media outlet asked the winner how it feels to be back in the ring again, Forrest Griffin readily answered that the feeling was 'rusty!' The winner also added that it feels great to be back and fight UFC 126.
However, before the match begun, Forrest Griffin was apprehensive about the match and in his interview he said that he was scared as he did not fight for about a year. He said that the fight of UFC 126 is going to be harder for him. However, he also added that he was not feeling any pressure and he would give his best shot in the fight. Even Rich Franklin said that Forrest Griffin is a tough player.