Carmelo Anthony To Join Los Angeles Lakers?
By Naiwrita Sinha, Gaea News Network
Wednesday, February 9, 2011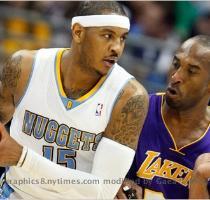 DENVER (GaeaTimes.com)- Recent reports in the basketball arena has it that the Los Angeles Lakers are planning for a possible trade-in with the Denver Nuggets for Carmelo Anthony. The packaging reports is believed to be a rope in of Carmelo Anthony in exchange for Andrew Bynum. Although nothing has been confirmed, sources are claiming that there has already been some preliminary rounds of discussions between the Los Angeles Lakers and Denver Nuggets officials.
Carmelo Anthony who is all slated to become a free agent with the end of this season has high chances of choosing Los Angeles Lakers instead of staying with the Denver Nuggets. Carmelo Anthony has 24.6 points per game, and his discontentment is likely to make him opt for a new team. However, moving to the Los Angeles Lakers will not at all be a bad idea for he shares good terms with Lakers star player Kobe Bryant since their Olympic days. On the other hand, choosing Los Angeles is also likely to reap profits for Carmelo Anthony' wife LaLa. LaLa who is a singer in all chances will give an agreement to her husband's ongoing trade-in proposals for the show-business in Los Angeles will also bring an advantage to her career.
Game experts however, think that Los Angeles Lakers are not doing the right thing by planning to give away the 23-year-old Andrew Bynum for he along with Pau Gasol makes the Lakers a power-packed team in the west. The Los Angeles Lakers are the third team to opt for the acquisition of Carmelo Anthony after New Jersey Nets and New York Knickerbockers whose attempts however were not successful.