Marquis Daniels Injured Last Night
By Naiwrita Sinha, Gaea News Network
Monday, February 7, 2011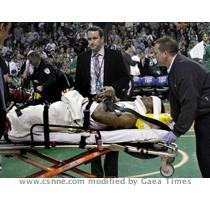 BOSTON (GaeaTimes.com)- With Marquis Daniels injury that came last night during the game between the Boston Celtics and the Orlando Magic, the former has been thrown into a grave situation for it is being suspected that the injury might lead the player to miss games for the next month or two. Marquis Daniels, however, is someone already famous for his history of back problems. The injury occurred during the initial phase of the of the second quarter of the game due to a collision between Marquis Daniels and Gilbert Arenas.
It was when Marquis Daniels was trying to advance to the net that he suffered a clash against Gilbert Arenas' shoulder which made him lie straight on the court floor near the Boston Celtics' bench. Coach Doc Rivers at one shot had been able to guess what would the consequences be for he was later on seen commenting that he knew that it was not something good that had happened. The player laid motionless, suffering a spinal cord injury with the officials hurrying for his medical assistance. He was taken on a stretcher to the New England Baptist Hospital where medical examinations are going on.
Team physician Dr. Brian McKeon said that Marquis Daniels is currently being subjected to a number of medical examinations whose reports will be announced within a short time. He said that this present spinal cord injury is related to the one that Marquis Daniels suffered in the last season. Danny Ainge, Celtics president of basketball operations has paid a visit to Marquis Daniels in the hospital and sources have revealed that he thinks that the player is most likely to skip the games that are lined up for the next month.