USA Mourns The Death Of Peter Lenz
By Shaon, Gaea News Network
Tuesday, August 31, 2010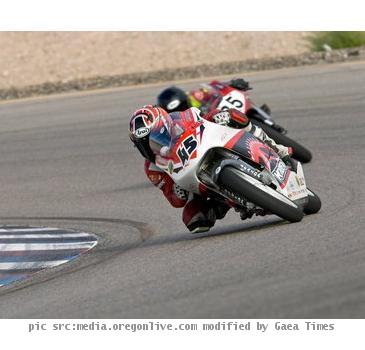 more images
INDIANAPOLIS (GaeaTimes.com) — The death of child prodigy Peter Lenz has brought a lot of issues with the dangerous sports, Motorcycling in the fore-front. Questions are being raised regarding the moral responsibility of letting under age children to participate in events, where the difference between life and death may be just a second.
Peter Lenz was the youngest rider given an expert card by the American Federation of Motorcyclists. Among his other achievements he won for races in this year's national youth series. He also earned the distinction of setting track records in North American tracks. But the fateful race in Sunday at the Indianapolis Motor Speedway snubbed a potential Motoracing superstar. He was killed after getting hit by a 12 year old competitor Xavier Zayat.
The CEO of the Motorway involved defended his position in a statement
It didn't involve our facility. It wasn't like he hit one of our walls. One rider ran into him and that can happen anywhere, as unfortunate as it is. (Motorcycle riders) do run into each other from time to time
In the face of uncomfortable questions regarding the ability of children to participate on such events Aitken-Cade, chief steward of the racers union defended his position by saying
Are kids at that age prepared for a track like this? We think, absolutely, they are," he said. "We've been doing this for nine years and we've never had an incident. We've been racing at almost every single track in the country — big tracks, small tracks, you name it, and these kids have proven time and time again their skills, their training, background, (they) are more than ready for a track like this
It is almost certain that Peter lenz and his family knew the nature of the event and the risks associated with it. But one imagines that nothing could have prepared them for the events that took place this Bloody Sunday. His life would serve as a cautionary tale for the families of children who allow them to participate in such dangerous events.