Amber and Angela Cope: Twin Sisters to Debut in NASCAR
By Jayita, Gaea News Network
Saturday, October 23, 2010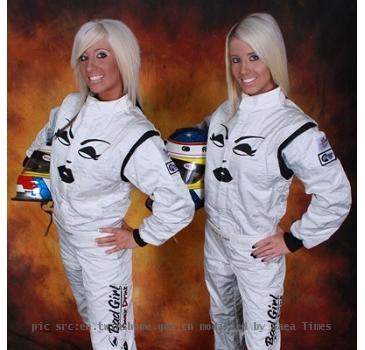 more images
Martinsville (GaeaTimes.com) — First ever in NASCAR history, that a set of twins Amber and Angela Cope will compete together in a national division in the Camping World Truck Series race Saturday at Martinsville.
For the 27-year old identical twins, racing is not an odd profession, instead it runs into their blood. Because they are the nieces of Derrick Cope, the 1990 Daytona 500 champion.
Derrike is confident about the success of the twin sisters. This is reflected in his words.
The twins are smart, attractive and have talent, And they understand that there is a learning process associated with being successful.
The girls know this is do-or-die. They have to perform. They have to make it happen.
This weekend, four race teams will be participating at Martinsville Speedway in the Camping World Truck Series. The twins will drive the No. 01 and No. 6 Dodge trucks, which are sponsored by ODYSSEY Battery by EnerSys.
Before competing in the Martinsville track the Copes sisters have to pass the hurdles of consecutive truck tests. They tested an ARCA car at Daytona in February and thereafter successfully completed two truck tests.
The proud uncle of the twin seems enjoying their achievement and also guiding them for more success.