Commonwealth Games Woes Continue Unabated
By Arnab Ghosh, Gaea News Network
Tuesday, October 26, 2010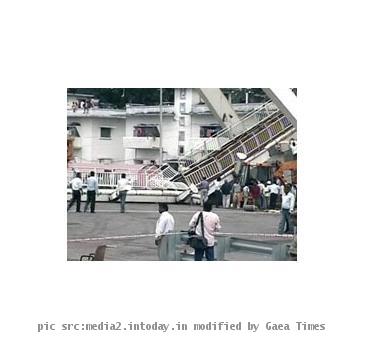 more images
NEW DELHI, INDIA (GaeaTimes.com)- The preparations for the upcoming Commonwealth Games are in full swing; yet the Delhi government as well as the organizers are being haunted by shoddy maintenance and poor infrastructure. The latest incident that has left the government red faced is the collapse of a footbridge near the Jawaharlal Nehru stadium which is the chief venue for the event. As per the latest update, 27 people have been injured by the accident and some of them are in serious condition. The Delhi state government which has already faced the flak for shoddy preparations from the participating countries and the media has embarked into damage control mode after the incident.
Needless to say, the upcoming Commonwealth Games is a major event for the ruling UPA government and its chance to showcase the developments that are taking place in the country in recent times. The bridge is 95 meter long. It gave in when construction work was in full swing. Delhi government sources reported later that the bridge has been made at a cost of INR 10.5 crore by PNR Infra, a Chandigarh-based company. The government's Public Works Department has asked for a probe to find out the reason for the sudden collapse of the bridge.
The collapse of the bridge added to the embarrassment of the Commonwealth Games Organizing Committee and the government. Earlier the delegates from the participating nations called the condition of the athletes villages shabby and filthy. Jaipal Reddy, the Union Urban Development Minister, said that the bridge collapsed because of the incessant rains. However, the real cause will come up only after the probe is over.