Jeff Francoeur Traded To Texas Rangers
By Reema, Gaea News Network
Wednesday, September 1, 2010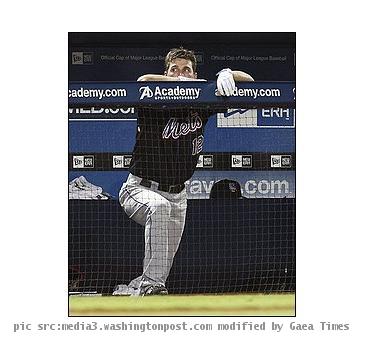 more images
NEW YORK (GaeaTimes.com)- After a streak of under-performance, New York Mets ultimately got rid of Jeff Francoeur by trading him to the Texas Rangers on Tuesday. The New York Mets traded Jeff Francoeur and some cash considerations to the Texas Rangers in exchange of infielder Joaquin Arias. The trade was made just hours before the players would have become eligible for postseason roster. As per reports; Joaquin Arias was designated for assignment as Alex Cora joined the team last week.
The Tuesday trade ended Jeff Francoeur's brief tenure with the New York Mets whom he joined last season. Although the player had come forward with some good play at the beginning of last season and batted .311 in 75 games. He was being considered as one of the emerging top baseball players by the team; however his performance took a back seat during the later part of the season. He failed to score for long and then came up with some good strikes. It is his inconsistency that has bothered the New York Mets and Jeff Francoeur had emerged more as an inconsistent performer rather than as a reliable striker. Jeff Francoeur at present is hitting .237 with 11 homers to his credit along with 54 RBIs and 11 outfield assists. On the other hand Joaquin Arias had registered an average of .256 in 50 games for the Texas Rangers and gone for the 22 starts. However, the injury prone player had passed two injury stints last season.
The Texas Rangers have been reportedly looking for a right-handed hitter for some time now. On Tuesday after the deal, Jeff Francoeur said that he is happy to join the team and is comfortable "going out there".