Rex Ryan Wife's Photos Stirs NFL Controversy
By Naiwrita Sinha, Gaea News Network
Monday, January 3, 2011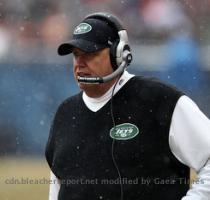 SAN FRANCISCO (GaeaTimes.com)- A major incident that sparked last week has stirred a controversy in the National Football League. The issue is certainly one of an embarrassing kind after people witnessed obscene photos and video of the present New York Jets coach Rex Ryan's wife Michelle Ryan on the Internet. Although until now there has is no concrete evidence whether the woman appearing in these photos is actually Michelle Ryan herself. No sooner did the issue crop up when it drew the attention of the investigators.
According to sources, FBI investigators are looking into the matter and the squad related to the online crimes are trying to find out the reality behind it. Many who are related to the NFL have been seen to shun themselves away after media asked for their reactions. The video that has shaken the entire Jets fraternity is named as "Pretty Feet" where viewers gets to see a woman engaged in some foot fetish antics. Those who had a look at it claimed that the nature of the videos is highly obscene and asserted that to call it as pornography will not be wrong. Incidentally the video where the Rex Ryan's wife has reportedly appeared bears resemblance to another set of pictures. Both the women in the video and the photos look identical.
While some claim that it is not the wife of Rex Ryan many are assured that it is none other than Michelle Ryan herself. The incident has drawn a good amount of attention and reports claim that a lot of people are searching the Internet for the steamy photos of the Jets's head coach's wife.