Mark Sanchez Picks Nose, In Public View
By Madhusmita, Gaea News Network
Tuesday, January 25, 2011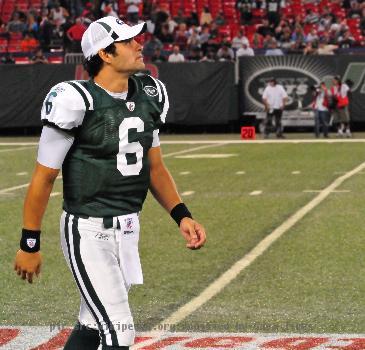 more images
LOS ANGELES (GaeaTimes.com)- Mark Sanchez managed to gain a huge lot of publicity during the game of the New York Jets against the Pittsburgh Steelers. The strangest part was, he had not even stepped into the game yet; all that he was doing was stand on the sidelines and watching, along with his fellow teammate Mark Brunell. However, it has to be admitted that he must have been pretty much engrossed in the game, given that he did not even notice the cameras clicking him furiously as he absentmindedly picked his nose, and then proceeded to wipe the products on the shirt of the unsuspecting Mark Brunell. Needless to say, the cameras went berserk, for it is certainly not every day Mark Sanchez can be caught on camera picking his nose.
Mark Sanchez might be pronounced guilty of carelessness, but the press thronging the AFC Championship league certainly won't. Despite the fact that the game they were covering was going on at an exciting pitch- what with the Pittsburgh Steelers at the red zone and the New York Jets sadly lagging behind- they sure did not miss any of the action going on, either on the field or off it. The Mark Sanchez picks nose video has definitely turned put to be one of the prize shots of this AFC Championship.
The newsfolk then proceeded to post the story in every medium possible, and the Mark Sanchez picks nose video has become an overnight rage on the internet. People are looking it up almost as much as updates on the game itself, and it can be safely said that the video has certainly lent a comic edge to the otherwise sad loss of the New York Jets to the Pittsburgh Steelers.