Jay Cutler Injury Adds Woes To Bears
By Ronee Roy, Gaea News Network
Monday, January 24, 2011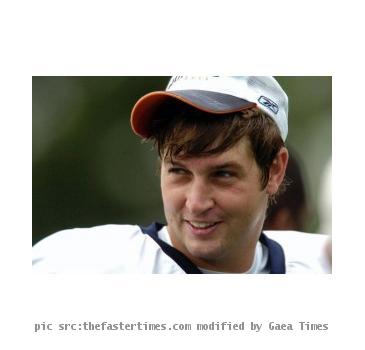 more images
CHICAGO, (GaeaTimes.com) - Chicago Bears QuarterBack Jay Cutler's injury is now posing to be quite a threat to the team who are still recovering from Sunday's loss at the hands of Green Bay Packers in the NFC Championship match. According to reports, 27-year-old Jay Cutler who was taken off the field during the third quarter of the game after suffering a knee injury will have to undergo an MRI today.
Sources reveal that Jay Cutler suffered a torn MCL on Sunday's match against the Packers which might put him off the field for quite some time. Although it is being speculated that Jay Cutler might not have to undergo a surgery, but the injury can sideline him from playing for some time. The Chicago Bears quarterback was replaced by Todd Collins who proved to be quite ineffective for the team as he was also replaced during the latter half of the game. At the time when Jay Cutler made an exit from the game, the bears were trailing with a score of 14-0. The Chicago Bears went on to lose the match with a final score of 21-14, thereby losing out on the NFL Championship.
Prior to his injury, the Bears quarterback, Jay Cutler, was having a difficult time on the field, six of fourteen passes for 80 yards. But his departure proved to be a more miserable one as his replacement Tod Collins proved to be a dud. The win now puts the Green Bay Packers in a on-to-one showdown against the Pittsburgh Steelers at the Superbowl on February 6. On the other hand Jay Cutler's injury is proving to be a reason to worry about for the Bears.