Green Bay Packers Beats Atlanta Falcons By 48-21
By Tias, Gaea News Network
Sunday, January 16, 2011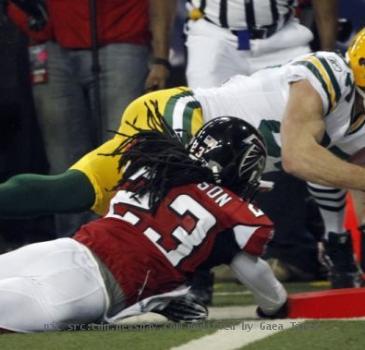 ATLANTA (GaeaTimes.com)- For the Green Bay Packers, Saturday's game was a dream come true. The team was lucky enough to reach the finals of the NFC Championship Game, thanks to the amazing game they played last Saturday. The Atlanta Falcons were defeated by Green Bay Packers in the NFC Divisional game by a score of 48-21.The game was pretty significant for the Atlanta Falcons. The ardent fans of the Atlanta Falcons were in high anticipation that their favorite team would win the match. However, unfortunately the consequence turned out to be something different. The Green Bay Packers won the match.
The Green Bay Packers is a wild card team which defeated the Philadelphia Eagles in the first round and the Atlanta Falcons in round 2. Now, they are slated to play either against Seattle Seahawks the Chicago Bears depending upon who wins the playoff that is scheduled to take place today. The Green Bay Packers quarterback Aaron Rodgers played a very important role in the team's win as he went on to score three touchdown passes while also running for another score, taking his team towards victory.
The Green Bay Packers are in anticipation as to who they are going to play against in the 2011 NFC Championship Game. The fans of the teams are keeping their fingers crossed. Whether or not the team would keep up to the expectations of its fans is just a matter of time. Given the manner in which the Green Bay Packers completely dominated their opponents during Saturday night's game, expectations are surely running high from them.