Houston Marathon 2011 Results
By Naiwrita Sinha, Gaea News Network
Sunday, January 30, 2011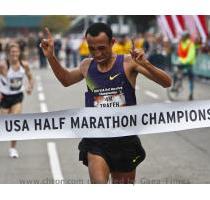 HOUSTON (GaeaTimes.com)- The U.S Half-
Marathon
championship
2011
that was held on Saturday in
Houston
once again saw a winner from the African sub-continent. Mohamed Trafeh of Morocco won the marathon championship going on to break the record that was set by the American Ryan Hall in 2007. While Ryan Hall had completed it for a 1 hour 2minutes and 20 seconds, Mohamed Trafeh did it for 1 hour 2 minutes and 17 seconds in the 13.1-mile race breaking the earlier record by a whisk of three seconds.
The day saw thousands of people from all over the United States swarming the city of Houston to catch glimpses of the mega event. The marathon race started off on Saturday morning with 63 men and 41 women contesting for the championship. The weather clearly indicated overcast skies with a temperature of 60 degrees. This time however, the route included few hairpins at turns as a result of which runners got slowed down. Mohamed Trafeh himself who now resides in California after winning the championship explained the situation saying that it gets really difficult when runners take the hairpins turns. The 2011 marathon race required the runners to follow an eight mile loop. This loop will also be used in next year January for the marathon trails for the U.S Olympics.
Patrick Smyth who was last year's runner this time grabbed the third place in the 2011 marathon. From the women it was three time Olympian Jen Rhines who won the first position in the U.S Half-Marathon championship held in Houston completing it for 1 hour 11 minutes and 14 seconds. While the second place went to Serena Burla for finishing it off in 1 hour 11 minutes and 38 seconds, Nan Kennard notched the third place for a 1 hour 12 minutes and 3 seconds.