Cincinnati Bengals Fail To Impress
By Reema, Gaea News Network
Monday, August 9, 2010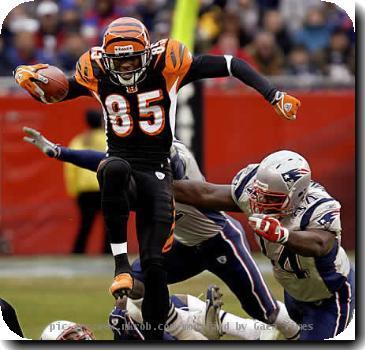 more images
CANTON (GaeaTimes.com)- The first pre-season game of Cincinnati Bengals against Dallas Cowboys at the Fawcett Stadium on Sunday night failed to impress the audience who only booed at the number of penalties and mistakes that spread all over the game. However, among the two, Dallas Cowboys showed some sparkle and won over the slogging Cincinnati Bengals by 16-7.
The Sunday game was the first of former Dallas Cowboys wide receiver Terrell Owens in the uniform of Cincinnati Bengals. However, he failed to impress as the wide receiver in the first pre-season game. The player though went for five attempts, could only catch Carson Palmer's two completions for a total of 18 yards. Early in the final quarter, Jordan Palmer threw a bad interception that went to Dallas Cowboys' Brandon Sharpe who did not miss the opportunity to return six yards for a touchdown and lead his team to a 16-0 lead over the Cincinnati Bengals. Just 43 seconds before the end of the game Jordan Palmer found Darius Hill and managed a one-yard touchdown pass. Both the team displayed poor offense; however the defense men seemed to have managed well.
During the Cincinnati Bengals game against Dallas Cowboys, there were 16 overall penalties with 12 by Cincinnati Bengals for 90 yards. However, both the teams are hopeful that they would be able to rectify the mistakes that they have done on Sunday and show some better play in the coming games. Dallas Cowboys coach Wade Phillips maintained that the best thing about the pre-season game is that one gets to know the fault lines and act accordingly. Tony Romo of Dallas Cowboys voiced the same and added that the team should continue with the training sessions and the off-season plays.