Holland Reynolds Inspires Her Coach
By Reema, Gaea News Network
Saturday, December 4, 2010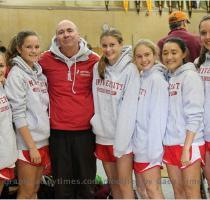 more images
SAN FRANCISCO (GaeaTimes.com)- Holland Reynolds, a 16-year-old high school student made her way to the headlines, after she collapsed while racing, yet ensured her team, San Francisco University High School's victory as she crawled with her knees and hands to reach the finishing line on time. The girl proved her determination and poise as she collapsed and fell on the ground, while she was just a feet away from the finishing line. However, despite the pain, dehydration and mild hypothermia, which she started acquiring within two-thirds of the way through the race, she finished it.
Holland Reynolds' performance straight paved her team's way to the State Championship. After her performance, she was immediately boarded on an ambulance where she was treated with intravenous fluids. However, it gave her teammates enough reasons to celebrate her victory and dedication right behind that ambulance and cheer her up. As she collapsed in the field, an official offered to help her cross the line. However, she refused him, as that would have disqualified her from the race and make her team lose the championship. It took her 20 seconds to touch the finishing line, and she was ranked as 37th after the race. However, the combined score of her team was enough to secure the championship. After the race, Holland Reynolds said that it was all because of her team and her coach. In an interview, she said that she just kept telling herself that she needs to finish the race and somehow touch the line.
Holland Reynolds also inspired her ailing coach to see life from a new perspective. Her coach, Jim Tracy, has been diagnosed with amyotrophic lateral sclerosis, or Lou Gehrig's disease, and not much time left. However, he was also charged up with new spirit after the race and he said that if a kid like Holland Reynolds would not give up easily, then even he would not.