Columbus Marathon: A Grand Success
By Reema, Gaea News Network
Monday, October 18, 2010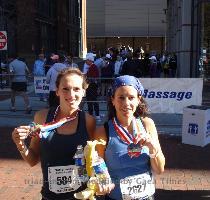 COLUMBUS, (GaeaTimes.com)- Columbus Marathon took place yesterday on October 17, with a whopping participation of more than 15,000 people. This annual marathon is also called Nationwide Better Health Columbus Marathon. The event first took place in the year 1980. This year, the event started in the intersection of Broad and Third Streets at about 7:30 AM.
The course of the Columbus Marathon took the player through the beautiful terrain of Ohio, covering places like Bexley, Governor's mansion, Capital University, the festive neighborhood of Old Town East, German Village in the South, the Upper Arlington, tree-lined streets of Victorian Village and then finally back to Nationwide Arena in the Arena District. It covers a total distance of 26.2 miles.
However, despite the long distance, this year there were more than 4,103 people who could make it till the end. Although most of the participants were runners, there were many, who raced on wheel chair. The Columbus Marathon is one of the nation's top chair racing marathon, where disabled people are judged in a different category. This year the male winner of the Columbus Marathon was Jason Ordway from Bellbrook, Ohio, who finished the race in 2:18:08. In 2008, his brother, Josh Ordway, also emerged as the winner of the same marathon. Jason Ordway received a prize money of $2500, and also qualified for the U.S olympics trials. He seemed extremely overwhelmed with his victory. The female winner of the Columbus Marathon was Elena Kaledina, of Russia, who finished finished it in 2:44:20. The winner of the wheel chair race was Chad Johnson of Charlestown, who covered the distance in 1:49:17. Not too far behind was Jeff Fisher, who covered the distance in 1:49:24. After crossing the final line of the Columbus Marathon, the participants gathered at the Celebration Village for refreshments. More than 2000 volunteers helped in the success of this marathon.