Christina Scavo And Shannon O'Toole Sues Brett Favre
By Madhusmita, Gaea News Network
Tuesday, January 4, 2011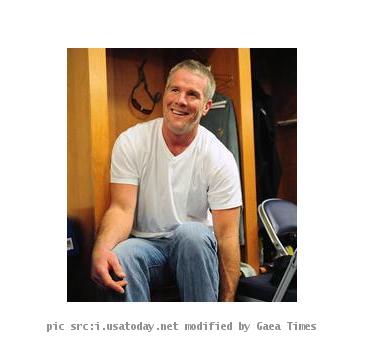 more images
NEW YORK (GaeaTimes.com)- Minnesota Vikings' Quarterback Brett Favre has been sued yet again for sending sexually explicit text messages and surprisingly, this time, not by Jenn Sterger but by two massage therapists Christina Scavo and Shannon O'Toole. The media outlets reported that these two massage therapists sued Brett Favre, New York Jets team and also their massage coordinator on Monday in Manhattan court. In the lawsuit, they claimed that the 'most career touchdown passes' record holder used to send them sleazy messages in 2008 after they gave provided a massage therapy to him in their summer training camp.
Christina Scavo and Shannon O'Toole stated in the law suit that Brett Favre sent a third unnamed massage therapist saying that he wanted to "get together" with her and Christina Scavo. Another text allegedly read that he was feeling lonely at night and hence he has some 'bad' intentions. The two therapists also stated few more text messages to prove their point to the court. On the other hand, the law suit also claimed that just because Christina Scavo did not respond to such sleazy messages, she and Shannon O'Toole were not hired by New York Jets team.
The two massage therapists have also sued Lisa Ripi, the massage therapist of New York Jets. Christina Scavo and Shannon O'Toole stated in the lawsuit that the massage therapist coordinator called up Shannon O'Toole and threatened her in a phone call. The two therapists claimed that Lisa Ripi told Shannon O' Toole that she and Christina Scavo would never be able to work for New York Jets again. Brett Favre was unavailable for any comments about the matter and New York Jets' spokesperson declined to comment.