Cotton Bowl Won By Tigers
By Reema, Gaea News Network
Saturday, January 8, 2011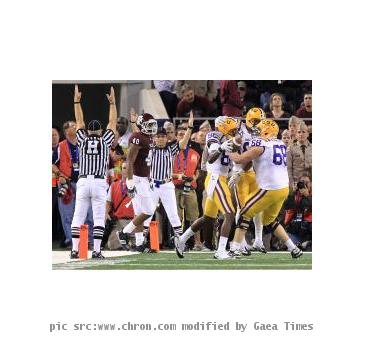 more images
ARLINGTON (GaeaTimes.com)- Cotton Bowl, that took place in Dallas Cowboy stadium in Arlington, on January 7, made the LSU Tigers the winner of the match. At the same time, the host team Texas A&M, lost the match, as it ended with a huge margin of 41-24.
The defeated team's defensive lineman Lucas Patterson agreed that there was something missing in the team. However, he also felt that their defense was "solid". Nevertheless LSU was anytime better than them in terms of offense, as atleast they were moving the ball rigorously all through out the match. They passed for 158 yards and rushed for 288 yards in total. Texas coach Mike Sherman said that the poor rush defense of the team should mainly be attributed to less condensed field set up, that could not "plug the gap". He said that when one player got out of his position to attempt a run, the entire defense got disoriented. The team was unable to resist the third downs offered by LSU in the Cotton Bowl. The winners made 288 rushing yards in total, while allowing Texas to make only 117. A few good performers at the Cotton Bowl were Stevan Ridley, who made 24 attempts with 105 yards and one touch down. Spencer Ware made 10 attempts, with 102 yards on 10 carries. Jordan Jefferson, made 12 attempts, ran for 67 yards. He completed 10 of the 19 passes.
The outcome of the Cotton Bowl was one reason for LSU Tigers to be happy about. The overwhelming victory of the team with 41-24, was surely one of Les Miles' best achievements, as for the first time in his career as the team coach, LSU completed 11 wins in four seasons. He said that he loves the quality team that he is playing with, and is glad to see how wonderfully they play in the tight quarters.
Filed under:
Football
,
Sports
,
World
Tags:
Arlington
,
Cotton bowl
,
Dallas Cowboy stadium
,
Jordan Jefferson
,
Les miles
,
LSU Tigers
,
Mike Sherman
,
Spencer Ware
,
Stevan Ridley
,
Texas
,
Texas A&M
,
United States